CSNJ January Meeting
Next Meeting is scheduled for January 20, 2017
7:30 p.m. – Refreshments at 7:10 p.m.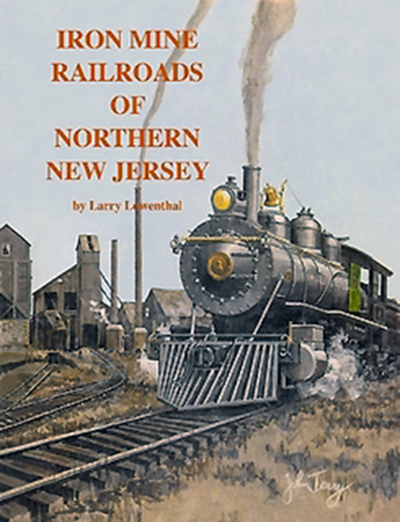 Membership Meeting
Friday, January 20th – 7:30 pm – Refreshments at 7:00
Morris County Cultural Center
300 Mendham Road, Morris Township
Iron Mine Railroads Revisited
Mike DelVecchio – President, TriState Railway Historical Society


For some there has been a single book that, once discovered, inspires a lifelong interest. Iron Mine Railroads, written by Larry Lowenthal in 1981, is that kind of a book. For industrial archaeologists, rail fans, and local history buffs it has been one of the few comprehensive sources of information on North Jersey's industrial and transportation history. For years this book has inspired its readers to do additional research and make new discoveries. In this presentation Mike DelVecchio will focus on some of the newly discovered photos of mines, railroads, and canals that continue to expand our understanding of our industrial past. After 35 years, the book has been republished and made available to a new and wider audience. Copies will be available for purchase at the meeting.


Mike DelVecchio has long been an active railroad historian and preservationist, having written five hardcover books and hundreds of articles on the subject for publications circulated world wide. As a photographer, Mike has taken more than a thousand published photographs. He has led and participated in restoration projects of both steam and diesel locomotives and numerous pieces of rolling stock in many museums. He has presided over the Tri-State Chapter of the National Railway Historical Society for 22 of the past 24 years. Professionally, he is a superintendent on the Morristown & Erie Railroad, having started there nearly 20 years ago as a freight brakeman. As a younger man he was active in the Canal Society of New Jersey with fond memories of staffing the museum at Waterloo.
In addition to this evening's presentation, CSNJ member Deb Wefferling ill prepare and serve a light supper and a fine
dessert. Deb's culinary skills are well known among members, so please come early to enjoy food and friendly
conversation before the meeting.
Directions to the Morris County Cultural Center
From the Morristown Green, turn right onto Washington St (County Route 510, formerly NJ Route 24). Travel 3.5 miles west toward Chester. Pass the roads to the Delbarton School and Lewis Morris County Park on the left. After the curve and long white picket fence, look for a sign for the MUA on the right, pointing toward the driveway, which is marked by a street light and lighted directional sign. Make a sharp left turn and drive uphill to a Spanish-style stucco building at the top. Parking is in the lot to the left at the top of the hill. Once inside the main entrance hall of the Cultural Center, the auditorium is to the left. Restrooms are upstairs, with elevator access.
From Route 287 South, take Exit 35, Madison Ave. Turn right at the top of the ramp onto Madison Ave (Route 124). Bear right at the next light onto South Street, continue straight through a series of traffic lights and around the Morristown Green. Turn right onto Washington St. (County Route 510, formerly Route 24). Continue as described above.
From Route 287 North, take Exit 35, South Street/Madison Ave. At the end of the ramp, turn left onto South St, continue straight through several lights and travel around the Morristown Green. Turn right onto Washington St, (County Route 510, formerly Route 24). Continue as described above.